Custom Wheels & Tires Modification in Martinez, CA
Looking for the best wheels and tires for your vehicle? Look no further. Outlander Motorsports is home to one of the largest and most diverse premium tires and wheels selections. 
As no one size will fit all solutions when customizing your ride, we specialize in modifications of wheels and tires in Martinez, CA. If you have a vision, the Outlander Motorsports team will bring it to life.
CUSTOM TIRES AND WHEELS MODIFICATION IN MARTINEZ, CA
Outlander Sports offers a vast collection of stylish street wheels and off-road wheels with a range of offsets to ensure you achieve the perfect footprint. 
However, fitting the right wheel and tire combination is vital. Here's why. Your Toyota 4Runner, Jeep Wrangler, Ram 1500, or other vehicles came fitted with wheels meticulously designed by the manufacturer's engineers.
Each component and measurement is purposefully engineered to ensure adequate clearance between the tire and wheel and other key components like brake calipers, tie-rod ends, frame, fender wells, and more. 
When you switch to a different wheel and tire combo, the customization shop must have the expertise to perform adequate wheel or tire modification.
Our experienced mechanic boasts years of experience modifying wheels and tires to the perfect offset and backspacing. We utilize state-of-the-art equipment and tools to achieve exact measurements to ensure optimum performance. 
When you choose Outlander Motorsports for wheels and tires modification in Martinez, CA, we will do the heavy lifting, so you can focus on enjoying your new custom whip.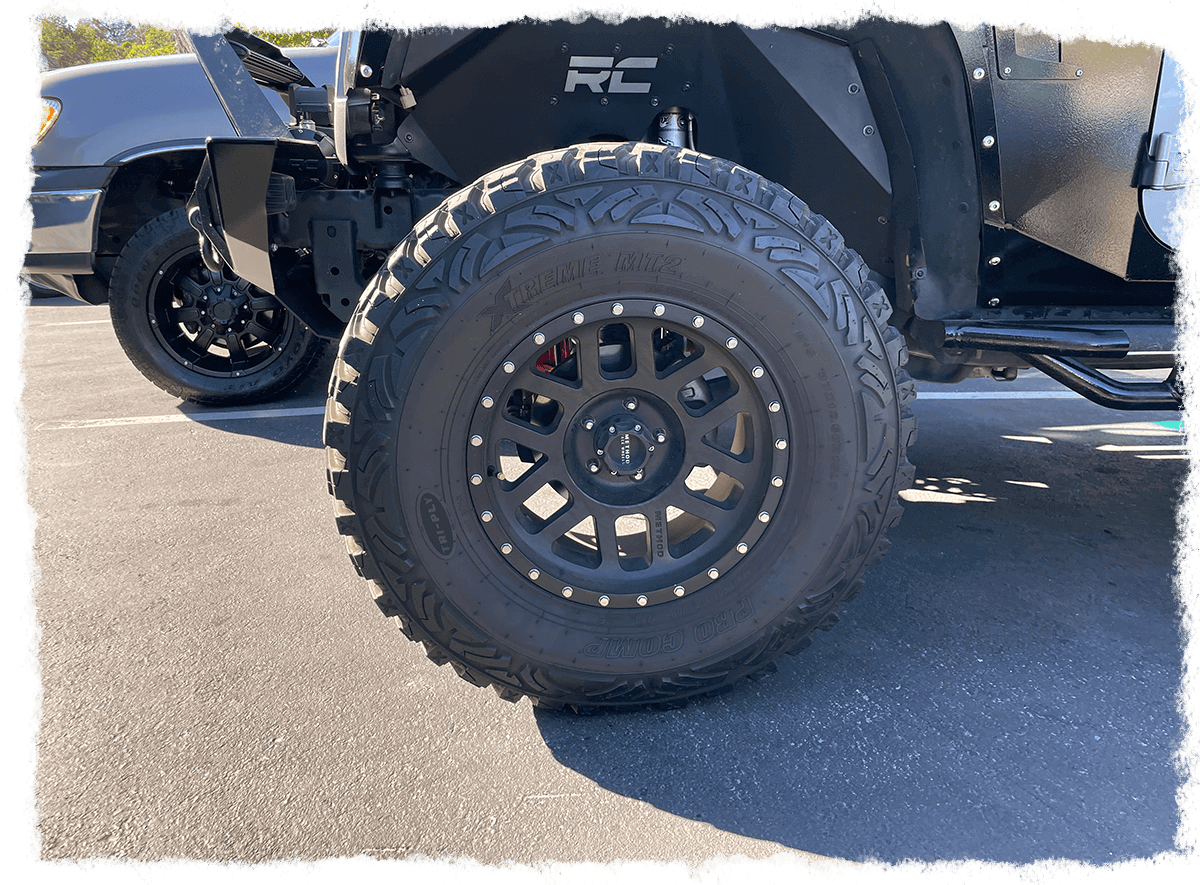 GET THE BEST OFF-ROAD WHEELS & TIRES MODIFICATION
If you're looking for better rock-crushing, mud-slinging ability, or looking to create your own road, Outlander Motorsports can help. And one of the best ways to elevate your off-roading adventures is to upgrade to more off-road-friendly tires and wheels. 
For the most part, the tires and wheels on your truck or SUV are not optimized for off-roading. Even if you have an off-road-ready vehicle (like the Toyota 4Runner TDR Pro or the Epic Jeep Wrangler Rubicon), there is still much room for improvement.
The mechanics at Outlander Motorsports can help you achieve maximum performance, starting with your wheels and tires. We will specifically help you select and upgrade your wheels and tires to beefier off-road tires. Our off-road tires boast heavy-duty sidewalls, deeper treads, and an optimized rubber compound to give you the confidence and ability to go where other vehicles would only dream.
HEAVY-DUTY ALL-TERRAIN TIRES FOR SALE IN MARTINEZ, CA
One popular option is all-terrain (A/T) tires. These tires combine the best of off-road tires and street tires to give you the ability to go farther, do more, and still enjoy an excellent feel while on the road. 
A few key perks of A/T tires include:
Reinforced sidewalls

All-year operability

Open-tread design
MUD-TIRES FOR SALE IN MARTINEZ, CA
Mud-terrain (M/T) tires, simply known as mud tires, are premium off-road tires designed to whip the most challenging trails and conditions into light work. 
M/T tires are designed to elevate your off-road abilities to new heights. These tires are designed to work best off-road while on-road comfort is prioritized. 
A few key attributes of our mud-terrain tires include:
Significant tread blocks and aggressive tread pattern

Integrated stone and mud ejectors

Sidewall lugs and tread

Puncture, chip, and cut resistance

 
CONTACT OUTLANDER MOTORSPORTS TODAY FOR THE BEST OFF-ROAD MODIFICATIONS IN MARTINEZ, CA
Outlander Motorsports is your one-stop-shop for all types of off-road equipment and solutions. Our goal is to make your dream vehicle your reality. In addition to offering an entire catalog of the best off-road equipment, our mechanic has the state-of-the-art tools and skills to install it to perfection.
Contact Outlander Motorsports today for the best off-road modifications in Martinez, CA.